Girls on the Run
The Children's Diabetes Foundation will be supporting Girls on the Run, which is a team of girls ages 7-13 who have type 1 diabetes and their friends/sisters. These girls spend 12 weeks training together, while also focusing on building character and confidence. Exercising with type 1 diabetes can be difficult because it causes levels to vary wildly between high or low blood sugars. By creating a diabetes-centric team that is run by administrators at the Barbara Davis Center, these girls can run and train, knowing that their peers and coaches understand the difficulties. This is why the Children's Diabetes Foundation is happy to support this team by sponsoring their training registration, t-shirts, snacks, etc.
Interested in joining the Girls on the Run team?
To join Girls on the Run, call Janet Snell-Bergeon at 303-724-6762.
Who: All 3rd-8th grade girls with T1D and their sisters
Dates: Vary depending on the time of the year. Contact Janet for more information
Sessions: Wednesdays 4:30 – 6:30 pm with a possible second session on Saturdays 10:00 am – 12:00 pm
Where:  Barbara Davis Center Lobby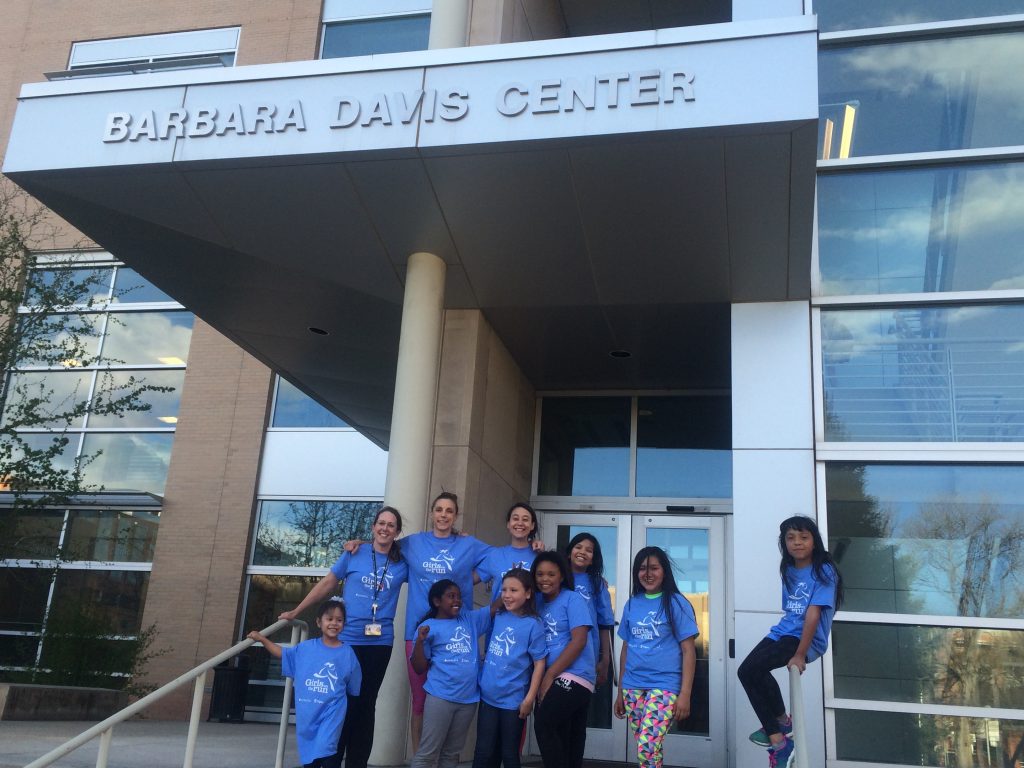 The program fee is waived for all girls with type 1 diabetes.
Girls on the Run is dedicated to creating a world where every girl knows and activates her limitless potential and is free to boldly pursue her dreams. Meeting one to two times a week in small teams of 8-20 girls, we teach life skills through dynamic, interactive lessons and running games.
Running is used to inspire and motivate girls, encourage lifelong health and fitness, and build confidence through accomplishment. At each season's conclusion, the girls and their running buddies complete a 5k running event which gives them a tangible sense of achievement as well as a framework for setting and achieving life goals. The result—making the seemingly impossible, possible, and teaching girls that they can.
If you can't join this session, you will have more opportunities. Girls on the Run will have 3 sessions throughout the year: spring, summer, and fall!
What if I don't like to run?
We use the term "running" loosely – girls can run, hop, skip, speed walk or dance towards their goals. The lessons promote self-challenge instead of competition; self-worth instead of societal worth; and cooperation instead of rivalry.
To join Girls on the Run, call Janet Snell-Bergeon at 303-724-6762.